It's one of those days today, where the clouds hang low and only drizzle when you go to the mailbox or want to go for a walk. I've been working steadily but not getting as much done as I'd like. Such is the way of Mondays.
In honor of this deeply mediocre Monday, I give you my version of the Omnitaur. Here's the original by xkcd: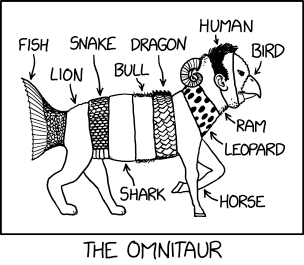 And here is my own half-assed version. It needs more work and focus, and that's just not happening today. And oh look, I just noticed that the bull segment disappeared somewhere along the way. Ah well!
Some days creativity doesn't quite work. Still worth it.